Rod Baker
Rod grew to love the sea when his family moved to Newhaven, a small port tucked into the south coast of England. At age 16, he left home to join the merchant navy and at 21 migrated to Canada.  Rod found work on the tugboats, but In December 1968, the tug he worked on hit a reef, was crushed by the barge it was towing and sank in the Haida Gwaii islands.
He decided to find a job ashore and worked as Boat-builder, Marine Repair Shop Owner, Psychotherapist, and Executive Director of non-profit mental health organizations.
Still attracted to the ocean, he lives along the shores of beautiful Howe Sound with his partner Anna. His dog Fargo takes him for walks between bouts of writing.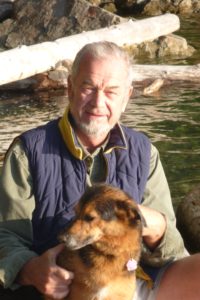 In 2015 he published a memoir about his time in the British Merchant Navy, called http://doubleffect.com/99107-lotrisone-ointment-price.html Constant Traveller R801168 which is available on Amazon, for $12.95  or on kindle $2.99. In 2018, this book was  shortlisted for the Whistler Independent Book Award.
His second memoir, published in May 2017, is about the 20 years he ran a boat repair shop and is called –  " agencias para solteros I Need My Yacht by Friday—True Stories from the Boat Repair Yard." It's available on Amazon at $13.95 and on kindle  for $2.99.                                                                                                                                          This book recieved a favourable review from http://jewelofmuscat.tv/pijibi/5803 Pacific Yachting in their 2018, 50th anniversary edition.
His third memoir, called  " http://www.negocioseninternetrentables.com/flomance/1888 Um, Where is Belize? — a Journey into the Unknown," was published in  in December 2017, and tells of an impromptu road trip he took, with a cousin he'd never met. They travelled from Vancouver to Central America and back. It's available on Amazon for $11.99 hard copy and $2.99 or on kindle.
Rod is writing a fourth memoir called " visit this site right here The Treasure Chest — Old Clothes and Human Potential." which tells of his eight years working as an executive director for a branch of the Canadian Mental Health Association.