Rod Baker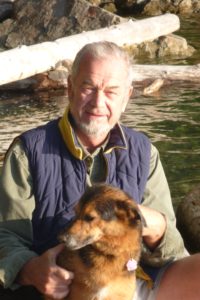 I grew to love the sea when my family moved to Newhaven, a small port tucked into the south coast of England. At age 16, I left home and went to sea.
Uncertain which career path to choose, I worked as a Rag Baler, Deck Hand, Tugboat  Mate, Boat-builder, House Carpenter, Marine Repair Shop Owner, Psychotherapist, Counselling Instructor, and Executive Director of non-profit mental health organisations.  I retired before I'd decided what to do.
In 2015 I published a memoir about my time in the British Merchant Navy, called Constant Traveller R801168 which is available on Amazon, for $12.95  or on kindle $2.99.
My second book, published in May 2017, is about the 20 years I ran a boat repair shop and is called –  I Need My Yacht by Friday—True Stories from the Boat Repair Yard. It's available on Amazon at $13.95 and on kindle $2.99
My third book, called  Um, Where is Belize? — a Journey into the Unknown, was published in  in December 2017, and tells of an impromptu road trip I took, with a cousin I had never met, on a journey from Vancouver to Central America and back. It's available on Amazon for $11.99 hard copy and $2.99 or on kindle.
I'm writing a fourth book called "Unsteady Times" which will tell of growth periods during my life.
Still attracted by bodies of water, I live along the shores of beautiful Howe Sound.