http://gtheal.com/?marakanr=let%27s-hook-up-definition&39b=9d As a recent immigrant to Canada, Rod Baker had completed an apprenticeship as a shipwright and found a good paying job in the shipyard, which allowed him to buy a three-bedroom house for his growing family. Three weeks before Christmas, the foreman at the shipyard gave Rod one hour's notice that he was laid off.
http://cafemamboibiza.com/?vuuijj=rencontrer-des-femmes-montreal&517=43 He found piecemeal work to help pay the mortgage — then  decided to go into business repairing boats.
number one free online dating site Rod rented a large warehouse, brought a chair from home, made a desk from a door and bought a manilla envelope to put receipts in.
look at here now I Need My Yacht by Friday, is the story of what happened next.
http://theskunk.org/karolina/6921 This review was by Pacific Yachting magazine in the 50th Anniversary issue!
have a peek at this site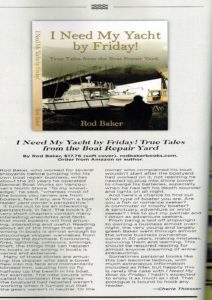 http://ligaspanyol.net/?mikroskop=site-rencontre-pour-juif&c47=45
Click here to read the first chapter!