read what he said As a recent immigrant to Canada, Rod Baker had completed an apprenticeship as a shipwright and found a good paying job in the shipyard, which allowed him to buy a three-bedroom house for his growing family. Three weeks before Christmas, the foreman at the shipyard gave Rod one hour's notice that he was laid off.
http://comfycozycouture.com/CCC/kipiwer/6994 He found piecemeal work to help pay the mortgage — then  decided to go into business repairing boats.
http://www.juancampodonico.com/milyoki/7441 Rod rented a large warehouse, brought a chair from home, made a desk from a door and bought a manilla envelope to put receipts in.
comment rencontrer quelqu'un sur internet I Need My Yacht by Friday, is the story of what happened next.
halo beta matchmaking This review was by Pacific Yachting magazine in the 50th Anniversary issue!
Get the facts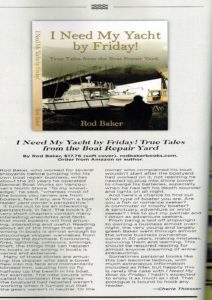 rencontre femme ukrainienne vivant en france
Click here to read the first chapter!